The scientific studies on LED light therapy
We've collected some of the many studies on light therapy and its benefits for the skin. You can choose the topic that interests you.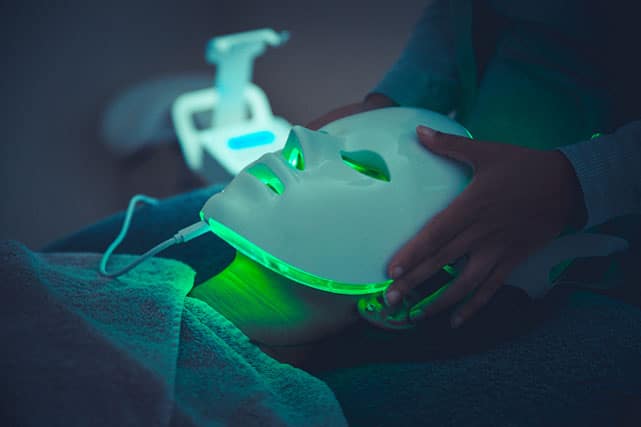 For eczema, rosacea, psoriasis and redness
During this study, patients with psoriasis were treated with red and infrared light for 4 weeks. At the end of treatment, the release rate for all patients was between 60% and 100%. Patients reported being very satisfied.
Ablon G. – Combination 830-nm and 633-nm light-emitting diode phototherapy shows promise in the treatment of recalcitrant psoriasis: preliminary findings.
Blue light has anti-inflammatory properties and has demonstrated its ability to treat different types of skin inflammation.
Shnitkind, E. et al. – Anti-flammatory properties of narrow-band blue light.
Several studies show that blue and red light are effective in treating psoriasis and eczema. They eliminate the cells that cause inflammation of the skin. After a few light therapy sessions, these cells calm down and the symptoms are much less visible.
Eczema is a skin condition that manifests as erythema or redness on the skin.
Exposure to red light helps remove hyperactive skin cells, which are the main cause of inflammatory skin. The red light penetrates deeply into your skin and chemically reacts with damaged tissue. Light helps heal signs of eczema over time.
Kleinpenning M. M. et al. – Efficacy of blue light vs. red light in the treatment of psoriasis: a double-blind, randomized comparative study: blue light versus red light in psoriasis.
https://www.ncbi.nlm.nih.gov/pubmed/21435024
Pfaff S. et al. – Prospective randomized long-term study on the efficacy and safety of uv-free blue light for treating mild Psoriasis Vulgaris.
Red light increases the rate of cell regeneration and thus accelerates the healing of the skin and the disappearance of scars.
Whelan, H.T. et al. – Effect of NASA light-emitting diode irradiation on wound healing.
A 2004 study showed that the scars of patients treated with violet light, a combination of red and blue lights, were half as visible as those of patients not treated with light.
Gaida K, Koller R, et al. Low Level Laser Therapy–a conservative approach to the scar?
Acne scars are a common consequence of acne vulgaris. Acne flares penetrate the skin deeply and damage the skin and its underlying tissues. Exposure to blue light allows the reduction of acne outbreaks and therefore the reduction of acne scars.
Chuah, S.Y. et al. – The impact of post-acne scars on the quality of life among young adults in Singapore.
Green light prevents the formation of pigment. The complexion of your skin will be smooth and clear. The study showed an 80% reduction in patients.
Lee, M.W. – Combination 532 nm and 1064 nm lasers for noninvasive skin rejuvenation and toning.
Green light touches the melanocytes and forces these cells to reduce their melanin production. Melanin is the pigmentation of the lower layer of the epidermis that causes skin spots.
Shin, H.S. and Choi, C.Y. – The stimulatory effect of led light spectra on genes related to photoreceptors and skin pigmentation.
Our three masks have a sufficient number of LEDs to have a real impact on your skin if used regularly.
The number of LEDs impacts the efficiency of a mask only to a certain point. It is the regular use of the mask that will determine its effectiveness.